With the UTSA Roadrunners ready to take on the FAU Owls this weekend to begin conference play, we figured it was a good time to take a step back and help the readers become familiar with some of the terms and statistics we've been bringing up in our blogs and podcasts. Whether you grew up shagging fly balls at little league practice, or UTSA baseball's recent success is your first introduction to the game, we want to help you learn the lingo of America's past time.
Gone are the days of being only concerned with batting averages, strikeouts, and walks. The number of wins a starting pitcher achieves is still essential, but there are many more determinants of whether it was a successful season.
Analytics has affected Baseball more than any other sport. You now see the right fielder checking his little notecard showing where Mike Trout is likely to hit the ball when he sees a curveball inside on a 3-2 count. It has taken over so much that, beginning this season, MLB has implemented rules on how many infielders a team can have on one side of the field. 
The main idea of this blog is to explain some of those more uncommon metrics and why they matter. What is a good OBP or SLG? We chose to provide the information via the blog, so it can easily be referenced throughout the season.
D1baseball.com is at the forefront of college baseball coverage. While they have some meatier content behind a paywall, you can still get great information for free. One of the paywall features is advanced batting and pitching statistics. While college baseball may need more resources to give the same coverage to every team, D1baseball does a great job providing some of these advanced stats. The list below is a mix of those stats we might discuss at various points this season. I also include some more common stats, which can be crucial in developing more complex ones.  
Batting Related
Slash-line – A colloquial term that represents a player's batting average, on-base percentage, and slugging percentage (e.g., 343/405/474) Also one of the quicker ways to give an offensive summary for someone. The slash-line example belonged to UTSA 2B Leyton Barry for 2022.
Batting Average (BA) – One of the oldest metrics used. BA is a player's hits divided by total at-bats. A sacrifice fly does not count as an at-bat and therefore does not affect one's average. Baseball purists will say that having a career batting average of .300 will get one into the Hall of Fame.
Batting Average on Balls in Play (BABIP) – How often the batter puts the ball in play and stays in the park. A larger sample can tell you about the quality of a player. A significant deviation from a player's career average BABIP can you something about their luck or the quality of defense they are facing. 
K% and BB% – Strikeout rate and walk rate. Measures how often a hitter walks or strikes out on a per-plate appearance. K and BB rates can be a great stat to determine a player's plate discipline.
On-Base Percentage (OBP) – A broader metric than BA. How frequently a batter reaches base per plate appearance. Whereas BA only considers hits, OBP includes walks and hit-by-pitches. OBP does not factor in reaching by error, fielder's choice, or a dropped third strike. If there is a large gap between a player's BA and OBP, he likely gets on base in more unique ways (enter the premise for Moneyball starring Brad Pitt and Jonah Hill).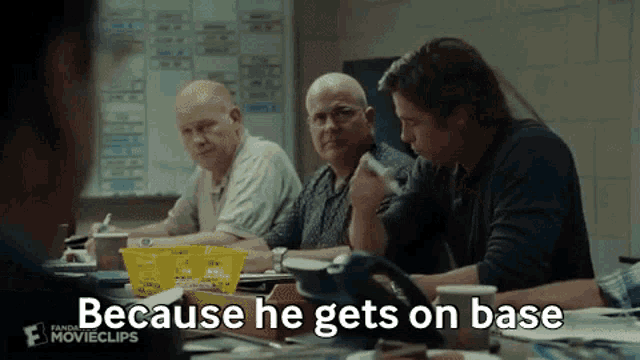 Slugging Percentage (SLG) – The total number of bases a player records per at-bat. This considers the notion that not all hits are valued equally. (920 extra-base hits / 2,211 hits = a career SLG % of .416). A good SLG is around .450.
Isolated Power (ISO) – A measure of a hitter's raw power and shows how often they hit for extra bases. ISO helps one understand the type of hitter one is. It can be calculated by subtracting the slugging percentage from the batting average. Around .140 is considered average, although not all ISO is the same. 
On-base Plus Slugging (OPS) – This stat adds on-base and slugging percentages to get one number that combines the two. The best way to view this is that it shows the well-roundedness of the hitter. It can also be used to evaluate pitchers. In that case, it would be referred to as OPS against. Anything above .800 starts to be considered above average.
Weighted On-Base Average (wOBA) – One of the most essential and popular catch-all offensive statistics. Measures the hitter's overall offensive value. It brings to light the concept that not all hits are created equal. wOBA weighs each hit in proportion to its actual run value.
Weighted Runs Created + (wRC+) – This is similar to wOBA; however, it looks at just what the title implies, runs.
Pitching Related
There are several sabermetrics that you will see in a pitcher's stat line that is the same stats as for hitters but from a pitching standpoint. (e.g., OBP against) I have left these off since they essentially mean the same thing.
Wins – This one may seem silly. In baseball, it isn't simply which team wins that the credit goes to the pitcher who started the game. Games that are eight or more innings require a starting pitcher must pitch at least five complete innings to receive credit as the winning pitcher. UTSA also must have the lead, while Luke Malone is still the active pitcher. Should the lead either go away or the game be tied after Malone is out, he would be given a no-decision. If UTSA were to win, whoever the active pitcher was (after the fifth) when UTSA regained the lead and kept it would be given the win.
Loss – Losses do not require a pitcher to pitch a minimum number of innings. If the UTSA pitcher gave up one run in the first inning and UTSA never evened the score, that pitcher would be credited with the loss. 
Walks plus Hits per Innings Pitched (WHIP) – WHIP measures how many base runners a pitcher allows per inning. It is more of a quick reference statistic rather than using it for full-fledged analysis. OBP against is a better choice for a rate stat as it isn't limited to specific innings. 
Fielding Independent Pitching (FIP) – Estimates a pitcher's run prevention independent of the performance of their defense. Strikeouts, walks, hit-by-pitches, and home runs allowed factor in. This helps consider how the pitcher performed individually.
Earned Run Average – The number of earned runs a pitcher allows per nine innings. The number of earned runs differs from runs allowed. The number of runs a pitcher allows adds those that come the way of an error or passed ball. In 2022 Luke Malone was 4th in C-USA with a 2.67 ERA. The Conference leader was Old Dominion's Blake Morgan, with a 1.69 ERA.
Saves – Traditionally earned by the pitcher entering the game in the 9th inning for the winning team. The game must be within three or fewer runs to count as a save. 
Team Related
Rating Percentage Index (RPI) – Aside from wins and losses, RPI may be the most critical metric for College Baseball teams. Last year's C-USA tournament showed how the clear favorites could have a bad weekend leaving the championship game wide open. Additionally, with the championship game being a one-game final, it can be a dangerous place counting on the automatic bid for a ticket to regionals. For many reasons, a C-USA title would be great for UTSA. It also will be great if their RPI can be a safety net for a regional bid.
RPI is a quantification used to rank teams by factoring in their winning percentage, their opponent's winning percentage, and the opponents' opponents' winning percentage.  Like the schedule of UTSA Football, you can only control whom you play so much. With UTSA Baseball in C-USA for one final season, this also holds true for them.
The above definitions scratch the surface of how deep into the weeds you can get with sabermetrics. Fangraphs has an extensive library of the stats mentioned and then some. I encourage anyone wanting to read even more on these to check out their page. Thanks again for reading. It's an exciting time to be a Roadrunner! 
Want to see more or less content like this? Let us know with an upvote or downvote.